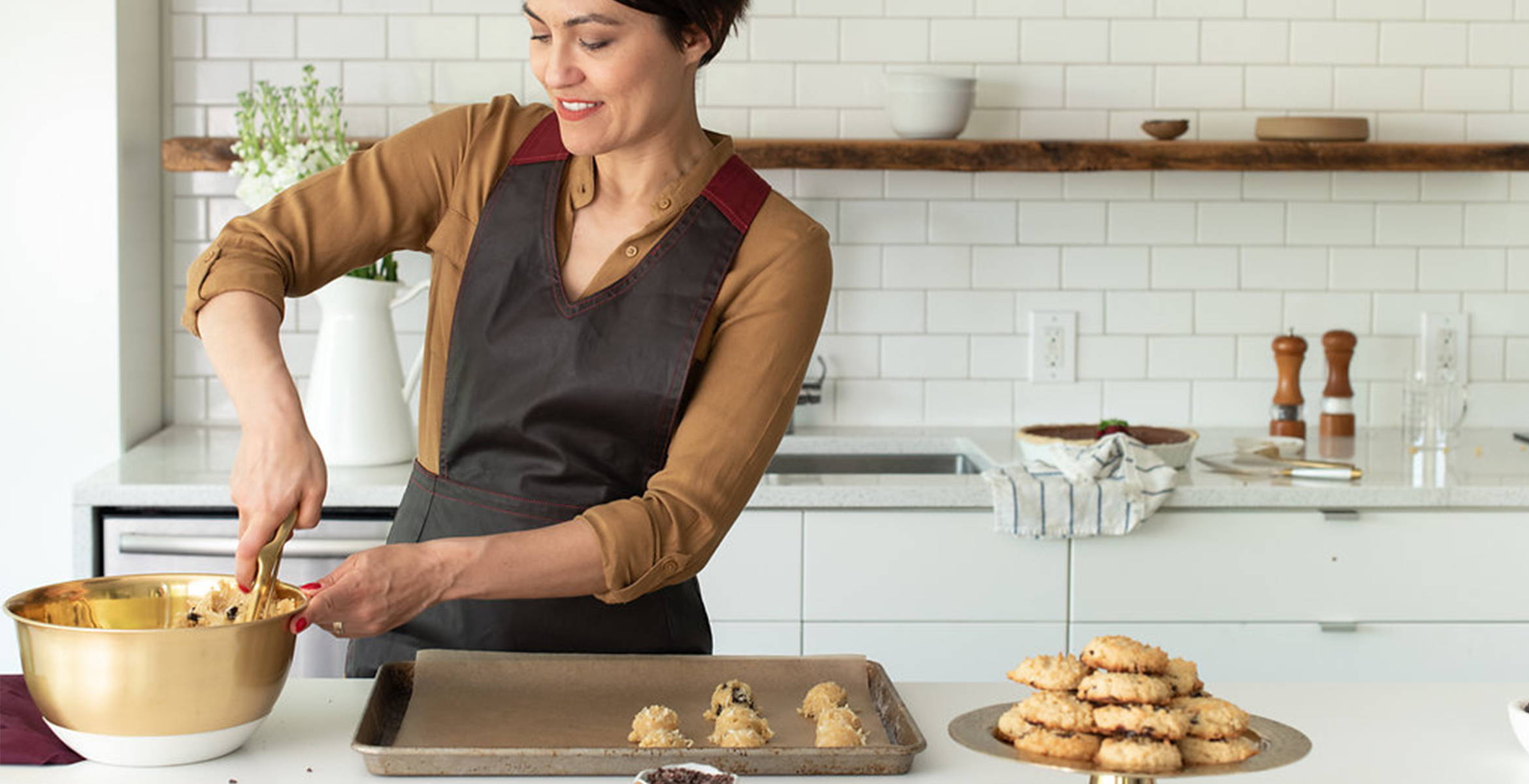 APRONERA STORY
We started ApronEra in 2017 because aprons are our favorite accessory but we were tired of all the aprons on the market making us look dated and feel frumpy. So we re-invented the apron. We looked not to other aprons for inspiration, but to modern classics and to style icons of the last century. Aiming for an apron that would fit like a tailor-made accessory, be as comfortable as a second skin, and look great on all body types…our signature apronera apron was born.
      We believe it's time for aprons to reflect our modern aesthetic and refined tastes. We believe the apron should complement our contemporary style and make us look and feel our best. We believe it's time for a new apron era. An era where aprons make us look slimmer and stylish while we work. We will usher in this new apron era so that every stylish doer has access to sexy protective wear.
---
OUR MISSION & VISION
We Empower Doers. We will usher in a new apron era with stylish and sexy protective accessories that make us look and feel our best while making a mess.
---
FEATURES & AWARDS
"Shed the traditional apron and its dangling strings and give these a try. Crystal K was inspired to overhaul the ill-fitting kitchen frocks made for one frumpy body type (who was the model for that, anyway?). ApronEra's aprons wrap the body in comfort and allow for movability using a V-neck-style pullover with a single suspender-style strap that runs from the back of the neck to the small of the back. With nary a string in sight, snaps keep it snug against your body. This is the anti-establishment workhorse of an apron worthy of your hard day's work."
—Kathy Brozyna, Madison Magazine
---
MEET CRYSTAL K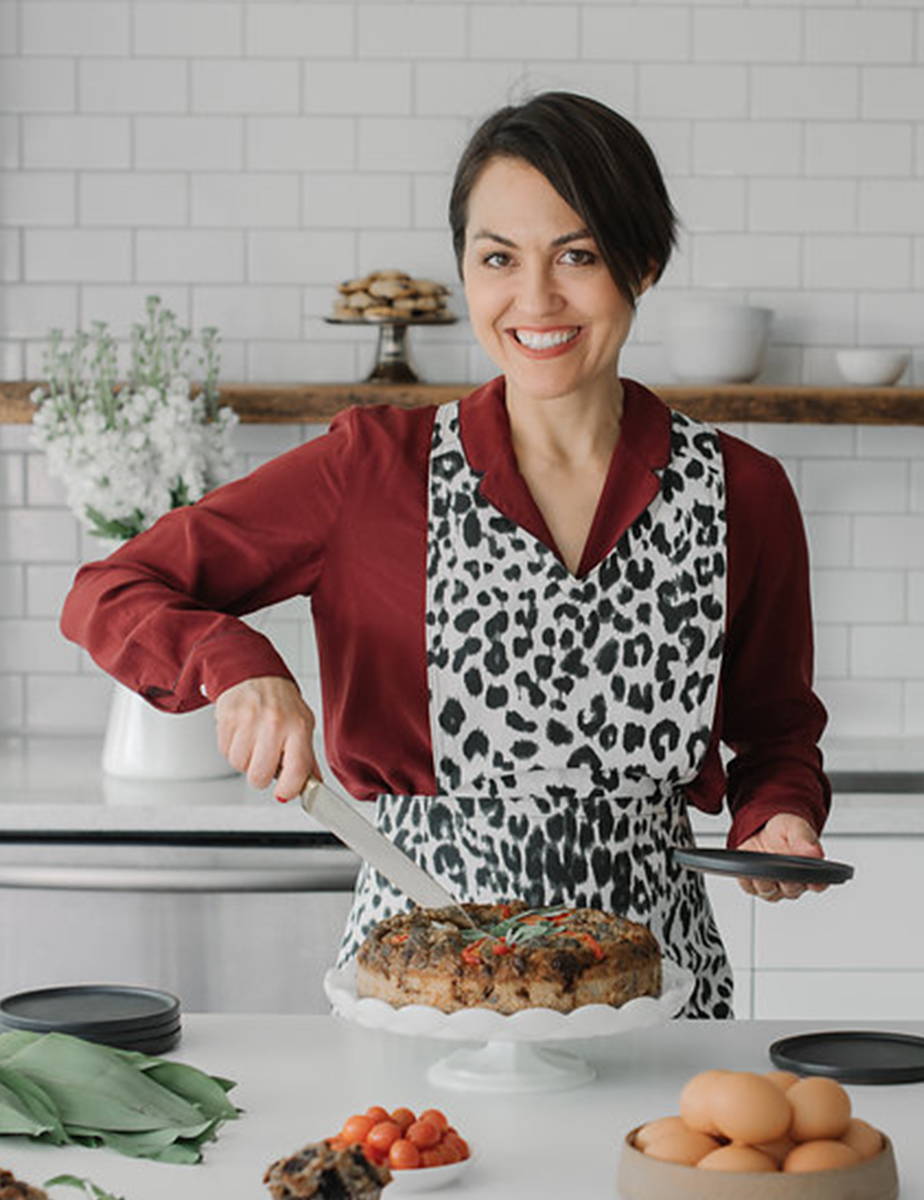 ApronEra's founder and CEO, Crystal K is a doer that grew up in a family of seamstresses in the Redwoods of California. When she was nine her grandma, Mamo, taught her how to use a sewing machine by having her sew ruled paper without thread. When she could stay on the line, Mamo would draw curved lines for Crystal to sew. Twenty five years later, Crystal wanted an apron for cooking, cleaning and studio work, but couldn't find anything that suited her style—not even close. The aprons on the market were either too crafty, too frumpy or too industrial. So she did what any creative would do: she started sketching...and sketching...and envisioning a stylish apron on Gwyneth Paltrow…and her friend Amy...and she kept sketching. She then spent her savings re-outfitting her studio and started using the sewing skills her grandma taught her to make her vision for a new type of apron a reality. Two years later, after first sketching aprons on a trip to a studio-sized castle in Carmel, CA and 43+ prototypes later—her Signature His & Her Apronera was born.
---
"Aprons are not a throw away piece. They are huge accessories that layer on top of our outfit and thus contribute a lot to our overall look. It's time to start thinking of the apron as an investment worthy accessory."
"The bib apron's uni-sex, one-size-fits-all, single-panel design wraps around you like a blanket. It may fit everyone, but it doesn't look good on anyone."
"Aprons were once a symbol of domesticity and subservience. Those days are dead. Today we wear aprons because we want to get our own work done. The apron has been adopted by the doer and become the accessory of the prepared."
"Aprons are the modern doer's uniform of choice. Now there's finally a stylish and high-quality option"
"I love aprons but I don't like bib aprons. Americans don't need any help looking bulky—we need accessories that make us look slimmer."
"We are not the people we were when the bib apron was born 300 years ago. We live a modern lifestyle and deserve a modern apron."
"Aprons are an undiscovered accessory market with a wealth of potential."
"ApronEra was designed to fit like a tailor-made accessory."
"The apron is an investment worthy accessory. Doers often wear aprons daily—just like we wear our shoes and handbags."
FAQs
Crystal K makes the prototypes and samples. Our Limited Edition Aproneras are made by the three best seamstresses in Chicago. The Aproneras are made out of 44 pattern pieces, complete with interfacing and lining where needed. All the materials are the highest quality available: premium fabrics, metal hardware and leather backpatchs. The seamstresses carefully craft the Aproneras because they are so intricate. The result is an apron that is as beautiful on the inside as it is on the outside (just like you).
Stylish doers who want to dress well while working hard: Chefs, bakers, gardeners, artists, woodworkers, dinner party hosts, service professionals, stylists, barbers, chefs, DIYers, hobbyists, and cooking show hosts.
Yes! For the moment we creating Limited Editions of our signature design in various fabrications. And we have a lot more designs that we are excited to share with #ApronEraLovers in the near future.
It took a full year to design the women's and men's Aproneras. In that year we tested every fabric weight and adjusted the lines by the 1/8". Knowing that we wanted the Apronera to rest on the shoulders (to avoid neck strain), be easy to put on and take off, and lay flat at the waist line—we tried many different utility solutions till we refined the design for a perfect fit that feels and looks great on every body type.
Yeap, the ApronEra is patent pending.
Stylish doers get the ApronEra vision right away. As soon as they see the ApronEra it's like they wake up to the posibility of slimming and stylish aprons—and can never see aprons the same again. They instantly have higher standards for aprons. Many #ApronEraLovers have given all their other aprons to goodwill after getting an ApronEra. Some have reported that they have a hard time washing their Apronera because they never want to take it off!
    For doers that don't have a habit of wearing an apron, the ApronEra has woken up a desire to wear an apron for messy tasks. The Apronera being the first apron they've ever owned. For stylish non-doers, they see the Apronera as a fashion accessory and enjoy wearing it out and about. They've reported that people have no idea they are wearing an apron because the Apronera looks like a stylish dress-like layer.
Aprons have been a cherished accessory since the beginning of time. It was in the 60s that women either stopped wearing the apron or they started wearing the men's bib apron, which was in attempt to shed the feminist apron that had become the symbol of domesticity in the 50s. For the first time since the feminist movement, people are starting to proudly wear aprons again. Thanks in part to the makers movement, oday we are grateful to be able to do our own work, to showoff our own craftsmanship, handmade goods and homemade food. Doing work is no longer reserved for the subservient, but rather is a sign of healt, talent and ability. The apron is the uniform of the doers and will thus only get more and more popular with the foodie and makers movements.
Our first challenge is people's low expectations of aprons. Everyone has gotten used to the apron being a bulky and low-quality layer (which doesn't make sense when you consider that doers wear aprons daily and that they are a huge accessory that we layer on top of our outfit!). In addition, the majority of apron companies are making variations of the bib apron (also called the French chef's apron or the BBQ apron), so people have forgotten that aprons can be anything other than the bib apron.
    Our next challenge is that the apron scene is dominated by a big apron company with lots of employees. Their colorful apron design is a single panel of fabric with trim that is easy to produce. We are a company of one mompreneur making a complex apron design. They have the employee's to market and sale their aprons far and wide. Even though we are a small and new company, we deeply believe the world needs stylish and slimming apron accessories—and have passionate #ApronEraLovers that LOVE helping us spread the word!
---
---
Brand Name = ApronEra
Capitalize the first "A" and "E" when refering to the brand ApronEra. No space between "Apron" and "Era"
Product Name = Apronera
Our aprons are called Aproneras. Capitalize the "A" only. No space between "Apron" and "era"
---
Need an ApronEra for a photoshoot? Want to talk with Crystal K? Are you an influencer that loves to cook in an apron? We'd love to work with you!
Email us at:
Hello@ApronEra.com
---